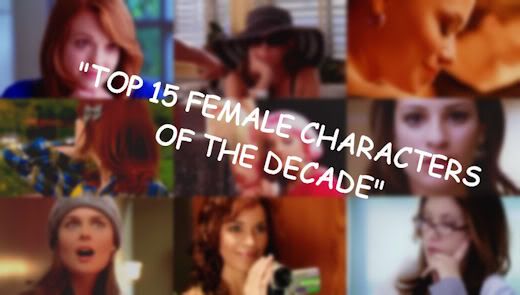 15.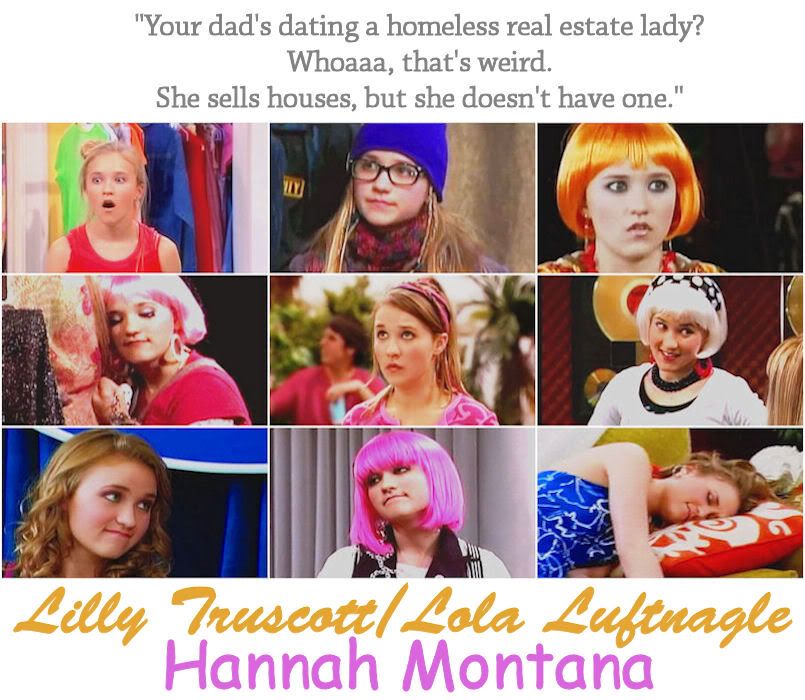 Played by: Emily Osment

Lilly is such a fun character and my favorite part of Hannah Montana, she's adorable and I love her Lola wigs.

14.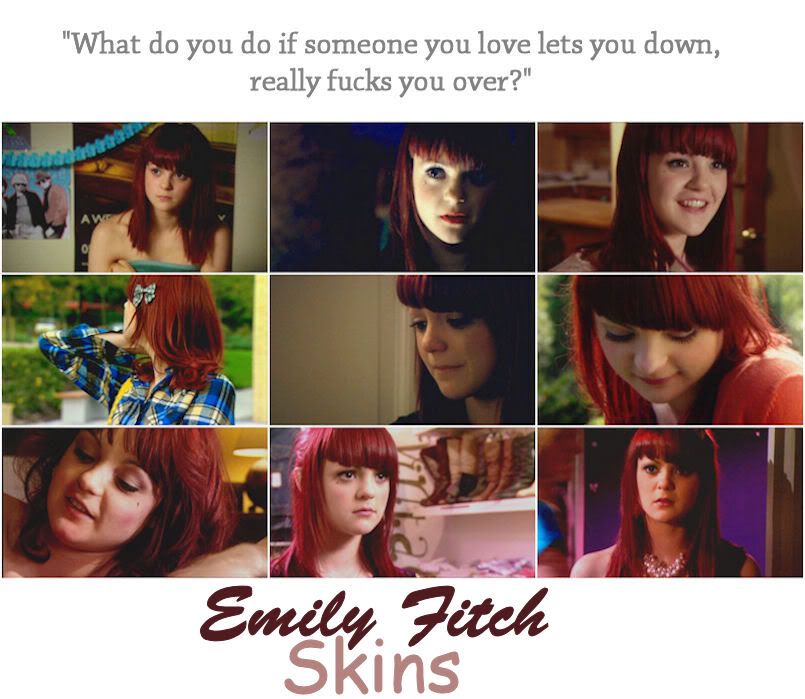 Played by: Kathryn Prescott

s3 isn't the best series for me, but Emily kinda stood out, her storyline actually holds my interest, though I don't really ship Naomi/Emily, and I am shallow and love girls with red hair.

13.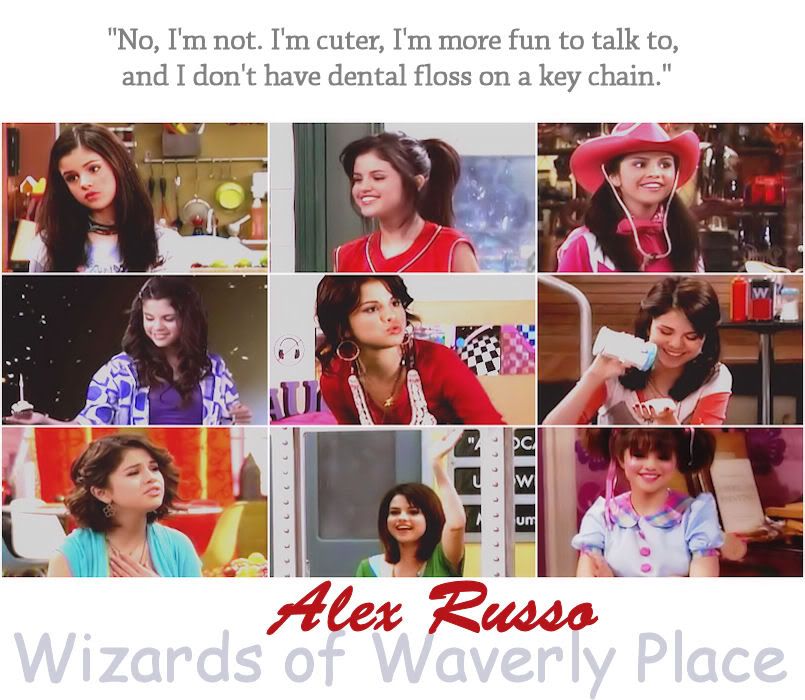 Played by: Selena Gomez

I love Alex, she has so many funny lines and Selena is so good at playing her. Probably one of the best actresses Disney has. I love Alex's whole slacker attitude. and can't count the number of times she has made me laugh.

12.



Played by: Autumn Reeser

Taylor is by far my favourite part of The OC, I never watched the show while it was on, cause I thought it looked bad then IDK what really caught my interest but I started to watch and while I kinda liked the show, it didn't really get good for me come s4, after Marissa died and Taylor came in. She brought so much to the show with her craziness and how she was a good friend and insecure, etc. But she did seem to overcome it and I also did love how she wasn't always needing to be saved, and was just who she was.

11.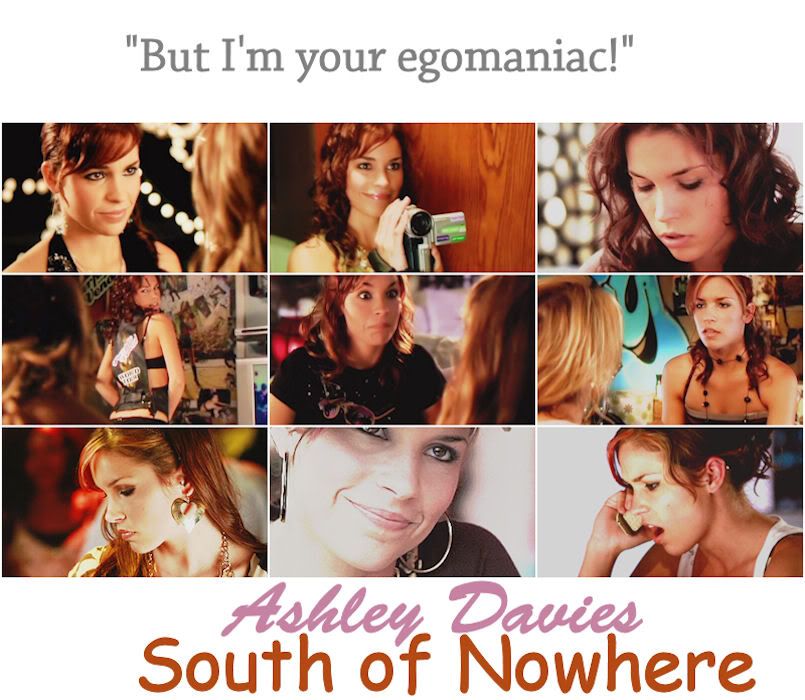 Played by: Mandy Musgrave

Ashley was awesome, even if s3 kinda made her lame she was redeemed during Gay Pride, and she was kind of a messed up but fun character, and I really enjoyed her layering.

10.



Played by: Melissa McIntyre

Haters to the left! Ashley has been and probably always will be my fav on Degrassi, sure she had her bitchy moments though those amused, but she was a good person and good friend, and even girlfriend, even it was a bit much, her heart always seemed to be in the right place. I like to pretend s5 never happened because that was such a sloppy way to right her out of the season.

09.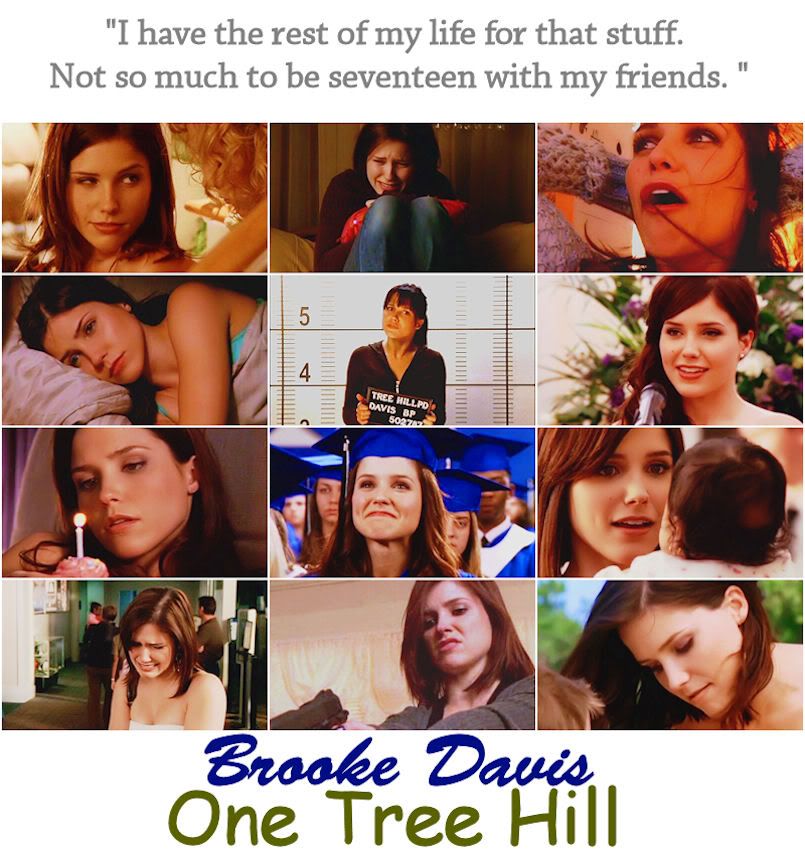 Played by: Sophia Bush

Brooke has grown so much since s1, and it has been in a good way. She went from wild party girl to responsible foster mother, and has always shown to be a good friend to those she loves, and not take shit from anyone, except perhaps her mother, but even that had a limit.

08.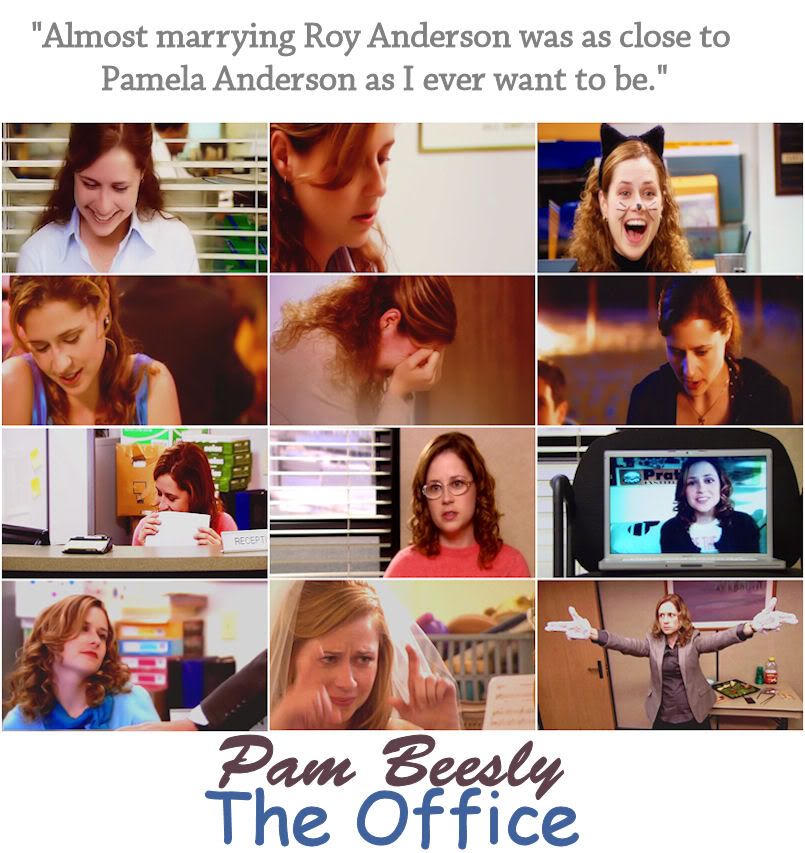 Played by: Jenna Fischer

Originally Pam was 9, and Brooke was 8, but I kept thinking about it, and I think Pam earns this ranking. I've loved seeing how she's transformed over the years, She was the shy receptionist to Fancy New Beesly! Even if Pam has been a bitch this year, I still love her.

07.



Played by: Kaya Scodelario

Even when Effy hardly spoke she had always intrigued me, I blame it on Kaya. Her eyes... They are mesmerizing, and she can emote so fucking well with them. I don't like the triangle crap this series though. s1-2 Effy would not stand that shit and roll her eyes at it, but she still had some good moments, enough to get her in here and at a good ranking.

06.



Played by: Kate Walsh

Le sigh, I remember my Grey's days and being obsessed and centering my Thursday nights around it... It was when Addison was on, and she was such a great character. It took me a while to warm up to her cause I did like M/D at first but she trumped with her fierceness and awesomeness. Seriously she had so many great HBIC moments, and then moments showing she was a good person with a good heart despite her mistakes.

05.



Played by: Leighton Meester

Blair is fierce and IDC I still do love her this season, even if her NYU storyline is super lame and beneath her. I love how Blair is a total HBIC but yet totally cares for those she loves, and is there for them. Her layering has kind of deflated but in the past season, but it's still there and she is still awesome.

04.



Played by: Lea Michele

I fucking love Rachel Berry! Sure she can be a bit over the top and divaish, but her heart is always in the right place I think and she is always reaching out to the other students, even if they are huge douches to her and don't deserve her greatness. It's kind of sad though to see her so lonely, I think she really needs a friend, someone to help bring her down when she goes over the top, and someone to support her awesomeness. She is super talented to top it all off and Lea is such a good actress, she has made me sympathize so much with Rachel.

03.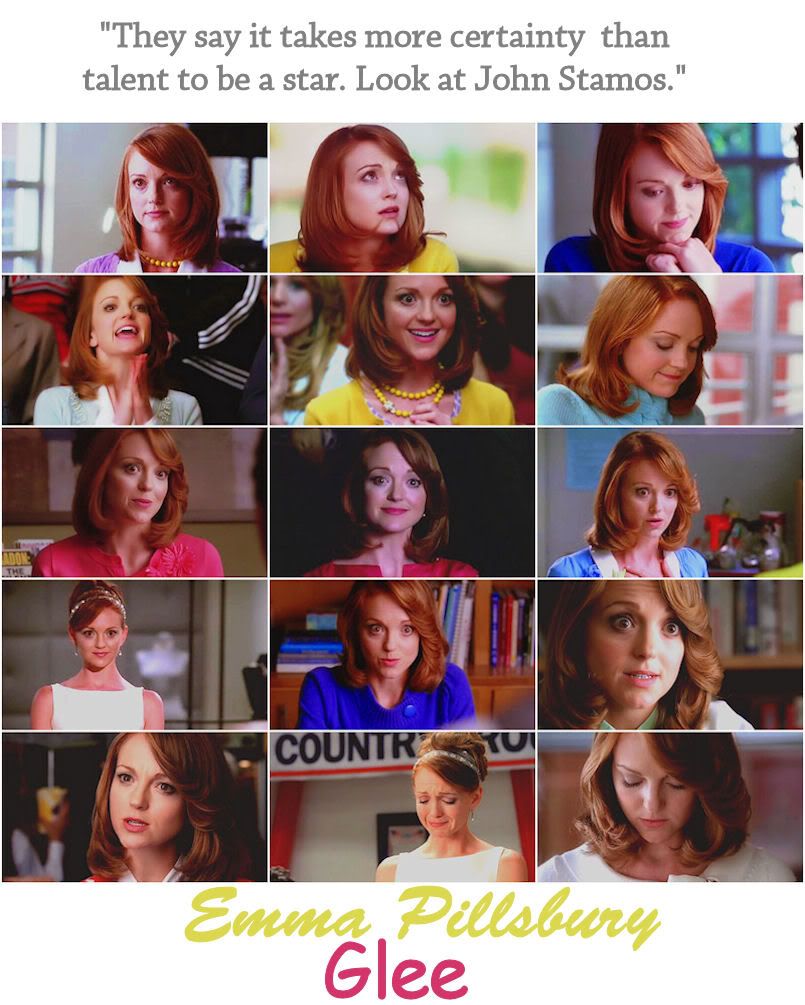 Played by: Jayma Mays

I had a hard time decided who I loved more, Rachel or Emma, and Emma just made it by a little. I totally love her character, she's so great. Her OCDness is adorable, and genuinely she is a good person, and despite some of her flaws I think she might be the moral compass of the show. She's not a homewrecker, even though she's in love with a married man, she's not actually trying to steal him away, even when she had the perfect opportunity, and is always giving out advice, and seems to usually speak her mind. Jayma plays her perfectly with her quirkiness.

02.



Played by: Bethany Joy Galeotti

Guh! Haley is amazing. Seriously she's the best wife, mom, friend, teacher, singer, etc. The thing I love about Haley is how she cares for other people and when it is shown has a fierce backbone when you mess with her, and is a simple character, and Joy plays her perfectly. It's just too bad she hardly gets any good storylines that just belong to her, where other people are involved. Joy deserves one, as does Haley.

01.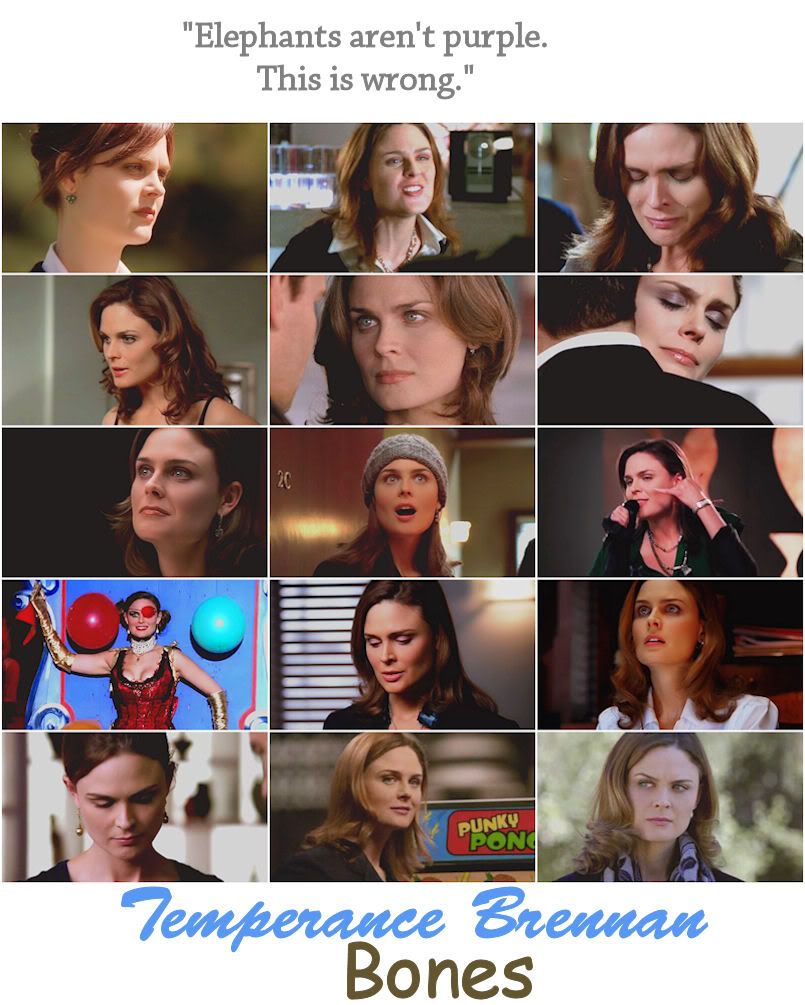 Played by: Emily Deschanel

Oh Brennan. I love everything about her, her views on religion [even if I disagree], her lack of knowledge on pop culture, her steep learning curve, her fierceness and even her heart. Mostly she is science and all, but quite a few times they have shown her sympathize with the victim or be sympathized with one of her storylines, and Emily plays it so well, showing the layering of Brennan, and the walls that she has up that are slowly coming down over the course of the show. I love how she's grown so much since the pilot and is continuing to grow. I can't wait to see where they continue to go with her. I also love how Brennan is not a victim. She's had things happen in her life where she could easily play into it and be "woe is me" but she isn't. It's refreshing to see a strong female character on TV. Though I di hope one day that the show will let her really breakdown, cause I think Emily would rock it hardcore, and I would like to see it and how she puts herself back together.

ETA: These are MY opinions of the top female characters. Not really a list of most popular of the decade.